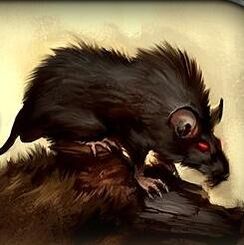 Giant rats roam the corridors of the ruined garrison. They present no serious threat to experienced explorers, despite the darkness in the flesh of the fallen they consume.
CR1/3 Giant Rat - Small Augmented Beast HP5 Initiative+3 Speed40(8), Climb20(4) AC15(T14,FF11) Bite+4(d4+poison) Abilities10,17,12,3,12,4 Saves+3+5+3SQ Darkvision, Poison (DC12, d3 dexterity), Scent Stealth+8, Swim+11, Clamber+11, Perception+4 Rewards - 100 souls, 10% chance for a humanity
Community content is available under
CC-BY-SA
unless otherwise noted.